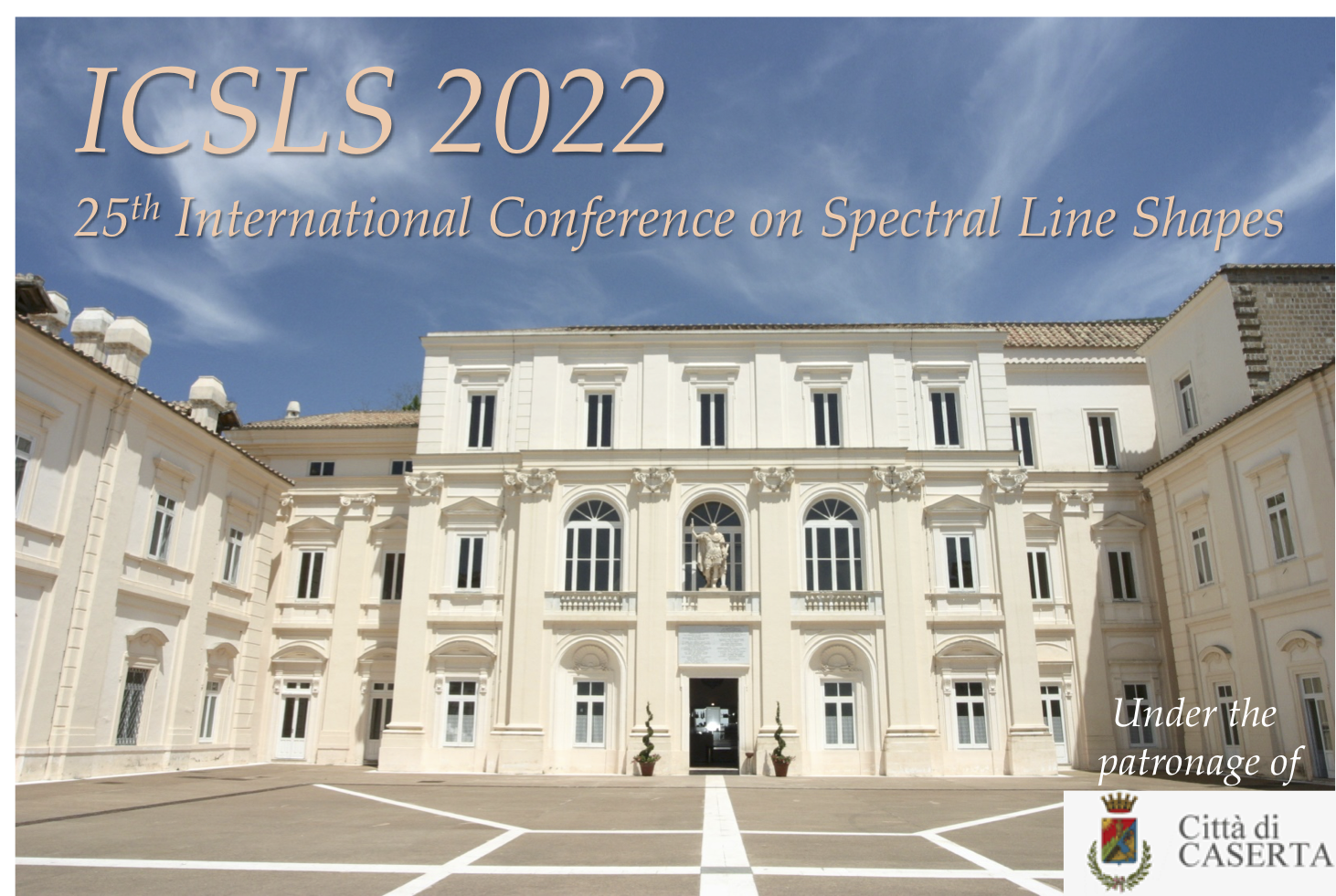 The 25th International Conference of Spectral Line Shapes will be held in Caserta from June 19th to 24th, 2022.
Please, mark in your agenda these dates for what it will be a successful, scientifically sound, and fully enjoyable event!
The ICSLS (InternationaI Conference on Spectral Line Shapes) bi-annual conference series started in Paris-Meudon, France, in 1973, and it is held alternating European and North-American locations. The last three editions were held in Tullahoma, Tennessee, USA (2014), Torun, Poland (2016) and Dublin, Ireland (2018). The 25th ICSLS conference is organized by the Department of Mathematics and Physics, University of Campania Luigi Vanvitelli. It will be held inside the wonderful Monumental Complex of Belvedere di San Leucio, in Caserta (Italy). Also known as Ferdinandopoli, its construction is due to king Ferdinand IV of Bourbon, who wished to create a small village around the silk factory, in the eighteenth century.
You can download the flyer here.
The ICSLS 2022 conference covers a broad range of topics related to spectral line shape studies, including: line shapes of atomic and molecular transitions in neutral gaseous mixtures, applications to fundamental metrology, single and multi-photoionisation processes, high and low temperature plasmas, clusters and helium droplets, nanophotonic processes, spectroscopy of stellar atmospheres and interstellar media, spectroscopy of planetary atmospheres and exoplanets, cold atoms and molecules, collision-induced spectra, processes in laser fields, innovative techniques of line shape applications for diagnostic purposes and fundamental studies with narrow optical resonances, along with applications in e.g., industrial, environmental, medical and all other potential domains of interest. The conference will include a mix of invited lectures, contributed talks and poster presentations.
Click here to download the 2nd annoucement.
The Conference Program is available here.
The conference is sponsored by:
Dipartimento di Matematica e Fisica, Università degli studi della Campania "Luigi Vanvitelli"
INFN, Istituto Nazionale di Fisica Nucleare, Unit of Naples
INRIM, Istituto Nazionale di Ricerca Metrologica
Sponsors and exhibitors: